Deciding Which Life Insurance Policy Is Right For You
If you are not familiar with the different types of life insurance policies, you've come to the right place. Below you'll find a clear and concise breakdown of the life insurance landscape that is fast and simple to understand.
Two Main Types of Life Insurance
Term Life Insurance: purchased to meet insurance needs that will only last for a certain time period. Examples include a mortgage or a child's education. As you age, this type of insurance becomes more expensive and eventually no longer available/affordable.
Permanent Life Insurance
This type of insurance policy will provide cash for your family and loved ones on death, whenever that occurs.
The best way to compare term insurance and permanent life insurance is to think about your family situation. The purpose of life insurance is to pass the financial risk of something happening to your family to an insurance company. There are nine primary reasons to have life insurance to protect your family and loved ones. The first two are met by term insurance while the last 7 are met by permanent insurance.
Term Insurance

Replacing income and other contributions to your family in the event of death. This includes all the contributions that everyone makes for the family in addition to earning an income.

Paying debts on death (ex. mortgage and line of credit)

Permanent Insurance

Paying final expenses

Paying tax due upon death

Creating an estate (legacy) for the benefit of your spouse, children and grandchildren

Conserving an estate – pay capital gains and other taxes

Equalizing an estate (ex. one child inherits assets like a company while another gets cash from a policy)

Providing endowment to a charity and taking advantage of a tax credit to reduce taxes

Corporate and personal wealth creating and preserving
A layered or combination plan – in reality most people actually need a combination of both term and permanent insurance. Any of our advisors can provide you some insight and guidance on this important plan.
Term Life Insurance
Who Should You Buy Term Life Insurance?
Term insurance was designed for Individuals and businesses looking for:
Coverage for short periods of time (10-20 years)

Mortgage and lines of credit repayment

Debt repayment

Replacing income and other contributions to your family in the event of the death

Any temporary need
You choose how many years you want the term life insurance to cover at the initial premium before it goes through a very significant price increase.
How Do You Choose The Best Term Life Insurance Policy?
There are two considerations when investigating term life insurance:
How much life insurance will you require and for how long? The amount could increase and then decrease over time.

For how many years should you lock in the price before the premiums renew – 10 years, 20 years, or more. You can combine term lengths to fit your needs.
How much term life insurance coverage you want – how much premium you have to pay monthly, yearly … can be calculated using our life insurance calculator.
How Long Should You Buy It For?
Term insurance starts out very cheap but becomes more expensive as we age, so it's important that you match your needs to the terms and purchase it when it's cheapest. Here is an example of how the annual price increases as one ages.
How Ten-Year Term Life Insurance Rates Change Over Time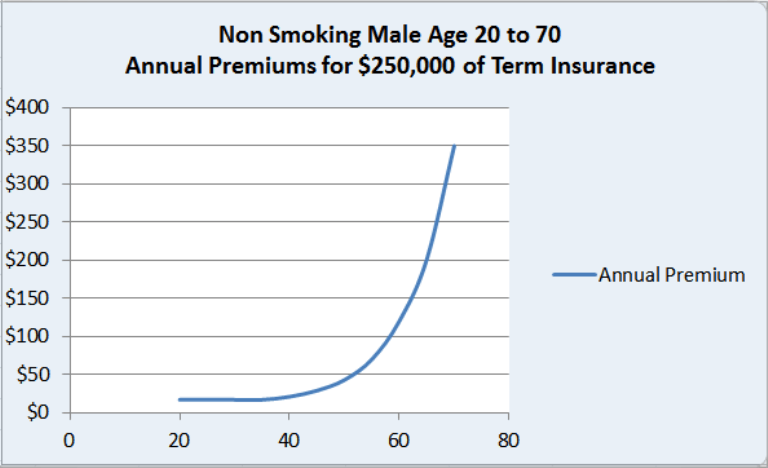 It is preferable to avoid having to qualify for term life insurance in your late 50's and 60's, as it is very expensive. The earlier you prepare your insurance plan the more you will save.

Term 20 Life Insurance Compared to Term 10 Life Insurance
The following chart shows how the premiums of a 10-year term life insurance policy would increase every 10 years if you could not qualify for a new insurance policy for any reason and had to renew your ten year policy.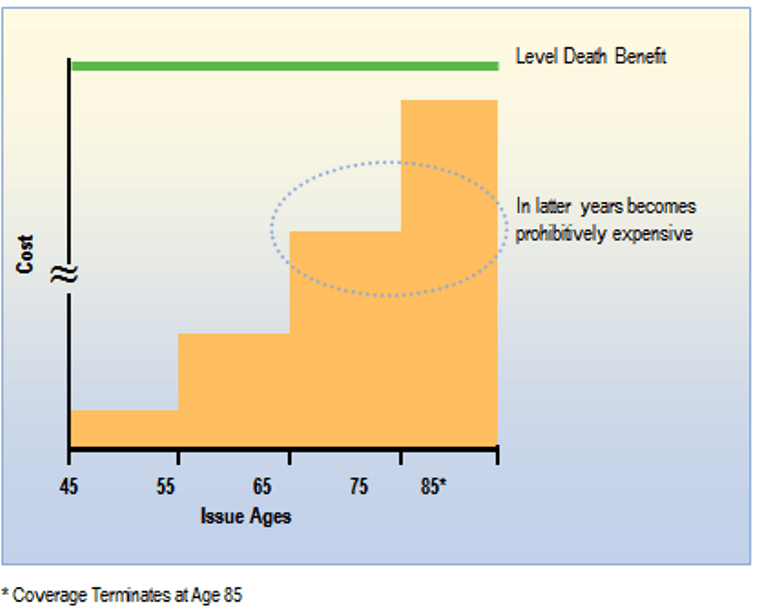 In this case, a 35 year old healthy non-smoking male would pay $18 per month for the first ten years. This, however, would increase to at least $95 if he could not qualify for a new policy for any reason after 10 years. It continues to rise quickly every 10 years until the term life premiums become prohibitive. If he had the health to qualify for a new policy at age 45, based on today's term life insurance rates, it would be about $29 per month for an additional 10 years. Instead, he could purchase a 20 year term policy for $25 at age 35 and eliminate the risk of not being able to qualify for a new 10 year term policy in 10 years.
For this reason, almost half the policies we sell are now for 20 years or more.
If you feel that you will need coverage for more than ten years, we are able to design a package of policies with different terms that can match your requirements over time. This approach is called layering policies.
Permanent Life Insurance
There are three types of permanent life insurance:
Whole life insurance
T-100 life insurance
Universal life insurance
Common Features of Whole Life Insurance and Universal Life Insurance Policies
Level price for life*
Coverage stays in place until death, no matter what age
Universal life insurance and whole life insurance policies have two components consisting of insurance and investments
*most companies offer a form of universal life insurance for which the price increases annually. This product is only appropriate in certain specialized circumstances.
Who Should Buy Permanent Insurance?
Individuals looking for:
Coverage to last a lifetime

Final expense insurance

Estate creation, including conservation, maximization or equalization

Pension maximization

Providing an endowment to a charity

Any permanent need
Features of Whole Life Insurance

Whole Life Insurance rates are usually guaranteed

Minimum face amount is guaranteed
Policy will have a minimum guaranteed cash value
A premium payment period may be guaranteed, for a period of years or to the age of 100
Policy has a minimum cash value
Policy may pay dividends which can be used to reduce future premiums, purchase more insurance, or increase the cash value
Cash value can be accessed by way of a policy loan or cancelling the policy
It can either be fully paid off in 10, 15, 20 years or paid for life
They are the most expensive type of permanent insurance due to the cash values in the policy and guarantees that come with the policy.
Whole life insurance is by far the highest selling permanent insurance policy type.

How Whole Life Insurance Rates Change Over Time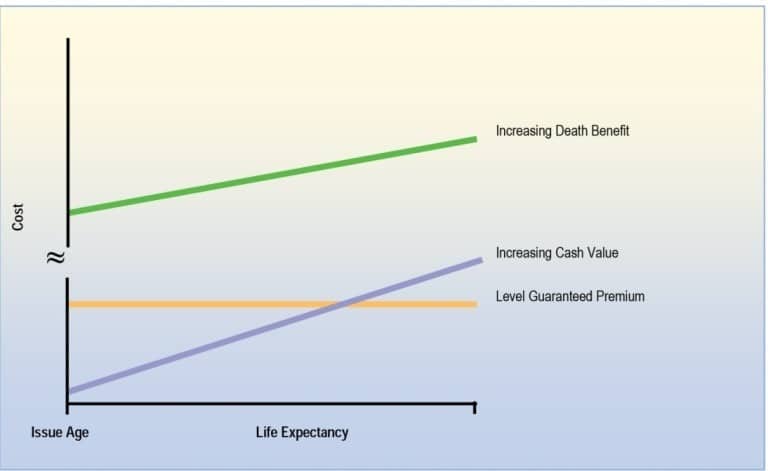 Features of Universal Life Insurance:
Cost of insurance is guaranteed not to increase.*

Face amount of insurance is level and guaranteed.
Death benefit is a combination of the face amount of insurance and the value of investments.
Additional funds, above the cost of insurance, may be deposited. The funds are invested at the discretion of the policy owner. Investment options include

Fixed income options
Stock market index accounts
Mutual fund mirrored accounts

The earnings on the funds invested in the policy are exempt from tax, within certain limits outlined by CRA. The funds stay in the policy and are paid out tax free as a death benefit.
Funds can be accessed by loan or withdrawal – a withdrawal could attract tax.
It is possible to have sufficient funds in the policy to pay insurance charges, thus creating a policy with no further premium requirements.
The basic cost of insurance is cheaper than the whole life policy and the insured determines how much extra to deposit into the policy. The choices are similar to a mutual fund investment.
How Universal Life Rates Change Over Time


Features of Term 100 Life Insurance:

Both the premium and the death benefit are guaranteed and level
No cash values
Premiums must be paid for lifetime
Example of How Term 100 Life Insurance Rates Change Over Time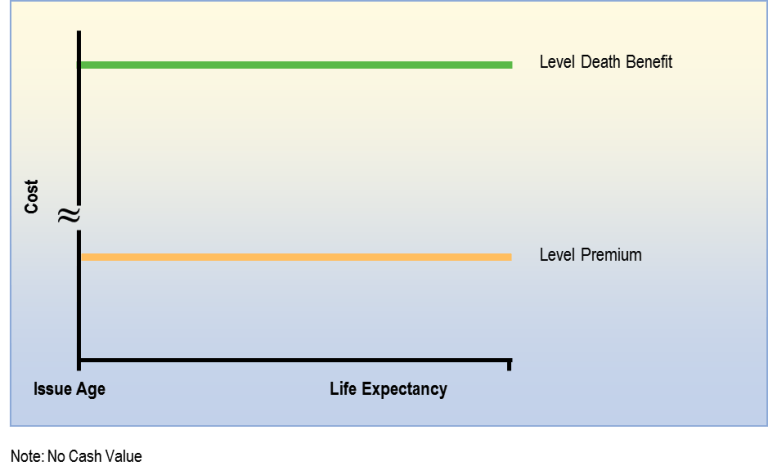 This is the least expensive type of permanent life insurance as there is no cash value and no opportunity to invest additional funds. However, for someone just wanting the insurance coverage, it can be the most cost-effective option.
To get a term to 100 life insurance quotes please complete the following form and select "Term to 100 Guaranteed Life Pay" in the Initial Insurance Period field.